At right: Mel and Denny's new house.
Photo compliments of the happy couple.
Last night, I drove into
Illinois
to visit friends.
I've known Mel since high school, and she and her fiance, Denny, just closed on their first home last weekend. They walked me through their new house, so excited about their plans to paint and renovate. When we walked into the master bedroom, however, Mel wrinkled her nose.
"
The people we bought the house from had wall-to-wall carpet in here, but they didn't install a carpet pad
," she said. "
The carpet was disgusting, so we decided to get rid of it."
Although they pulled the carpet itself up, apparently Denny spent a few hours removing ONE single strip of double-sided carpet tape from the floor - a process that involved way too much
Goo-Gone
, a putty knife, and more energy than was necessary. And there were still about 12 room-length strips to go.
This carpet-related problem could have been avoided (and the carpet might have been saved) if the former owners simply had a carpet pad installed with their carpet. Unfortunately they didn't, so Denny was on his hands and knees, unnecessarily up to his elbows in Goo-Gone and sticky tape.
For the record, if you buy carpet,
always
purchase a carpet pad. Not only does it extend the life of your carpet, but according to the
Carpet Guru
, you could
lose your warranty
if you don't. "
If you do not follow the manufacturer's padding guidelines, you will void your carpet warranty. It is up to the professional carpet dealer to inform you of the correct padding for each particular need
," he writes.
Left: Photo of carpet cushions from This Old House.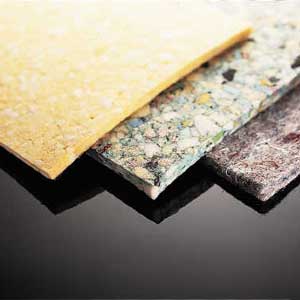 The Carpet and Rug Institute
believes that carpet cushions (the
preferred
term for carpet padding or underlay) have numerous
benefits
. "
A firm and resilient carpet cushion is necessary to form a good foundation for your carpet, increasing its comfort and extending its life by acting as a shock absorber when someone walks on the carpet. The cushion, or pad, helps buffer sound and provides increased insulation, making a room quieter and warmer
."
Ask The Builder's
Tim Carter
discusses
three main types of carpet cushions
. "
There are three major types of carpet cushions that most homeowners recognize: fiber, sponge and foam rubber. There are different types and grades within each grouping. Thickness of cushion and weight in ounces per square yard are the yardsticks which allow you to differentiate one from another
."
Of course, the carpet you buy will determine the type of cushion you need. "
Residential cut pile, cut- loop, or high-level loop carpet requires a resilient, firm cushion with a thickness of 7/16" and no less than 1/4" with 6 pounds per cubic feet density,"
the CRI Web site states.
Types of cushion may be various polyurethane foams, including the very common bonded foam product often referred to as 'rebond,' fiber, or rubber.
"
Berber carpet or thinner loop or cut pile carpet is made with large, wide loops, and it has been found that a stable, low-flexing, cushion foundation is necessary. A thicker, softer cushion is not acceptable. Cushion thickness should not exceed 3/8" for these type products. Again, check with the carpet manufacturer to see if a specific cushion is required."
I was fascinated to find out that there's actually an organization specifically devoted to carpet cushions: the
Carpet Cushion Council
has operated since 1976 and serves as a resource for carpet cushion-related education and questions. The organization's objective is to "
provide carpet retailers with tools necessary to improve communication with customers and increase overall sales
." According to the Web site, carpet cushions
originated
early in the 1900s and were used first under area rugs. When people realized how cozy and warm cushions made carpet, they expanded their use. Now, carpet cushions under wall-to-wall carpeting are the norm, even a necessity.
In Mel and Denny's carpet situation, the Carpet Cushion Council suggests that with a separate
cushion added
to the carpet in the master bedroom, not only would their carpet have lasted longer, but costs (and effort) could have been reduced. "
In fact, a study of carpet workrooms (professional installers) indicated that when all installation factors are taken into consideration—floor preparation, carpet installation, carpet removal, and cleaning and repair of the floor after removal—the costs of a separate cushion are significantly reduced over that of a direct glue down installation
."
Who knew that such a seemingly simple cushion could have such a lasting impact?
Technorati Tags:
Carpet
,
Carpet Cushion
,
Carpet Pad
Deli.cio.us Tags:
Carpet
,
Carpet Cushions
,
Carpet Pad