Image at right from PoliticalTicker.blogs.cnn.com.
Originally from Getty Images.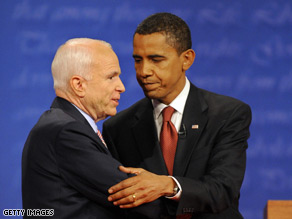 With such a complete takeover of election coverage in the media in recent months,
The Carpetology Blog
has felt a little left out. So today, we're throwing our (carpet-covered) hat into the ring as well.
To add a little levity to the election conversation, we've put together a list of all things carpet-related. You might be surprised with what we've come up with...
Last year in September,
Oprah Winfrey
rolled out the red carpet
for Senator Barack Obama. Apparently, her little soiree included 1,500 guests and cost $2,300 to attend. "
Stevie Wonder performed for guests, who included Sidney Poitier, Forest Whitaker, Chris Rock, Cindy Crawford, Jimmy Connors, Linda Evans, Dennis Haysbert and many others."
The Evil Beet
asks when Hollywood's closet Republicans will sport McCain t-shirts on the
red carpet
. There seems to be an overwhelming number of Obama tees worn by celebutainers these days.
The Stump
accuses Obama of
carpet-bombing
the airways in
this
brief post from July 10. At that point in time, he was spending $2.8 million on advertising each day. As of Oct. 15, this number had risen to
$4.5 million
.
In a
speech
in Ohio back in May, Senator John McCain described life during the next few years should he be elected president. Apparently, one reporter dubbed his rosy outlook as fanciful as a
magic carpet ride
. McCain replied:
"I don't think it has anything to do with fantasy, I think it has everything to do with setting goals and achieving.''
According to blogger
Anna Pickard
of the U.K.'s
Guardian
, the
carpet
used during Obama and McCain's second debate (the town hall style) was a shade of Eye-Stabbing Scarlet, "
the ugliest red anyone had ever seen
."
You can take a look at a very dapper Senator McCain in a TIME Magazine red carpet interview
here
on YouTube.
Oprah isn't the only big name star who's willing to drop a few dollars for Obama. According to an AP article from June, "
the campaign trail is taking a detour down the red carpet
." More of Hollywood's finest came out for a gala in Obama's honor, some paying $28,500 for a VIP dinner ticket alone.
Image at left credited to Richard Perry/The New York Times.
Recently, Blog Really
claims
that "
Palin calls McCain out on the carpet for folding his hand in Michigan
." Is this a shrewd political tactic or a regrettable gaffe on Palin's part? You decide.
So there you have it - our very fuzzy take on 2008 presidential election coverage . If you happen to run across any other squares of carpet news, please make sure you return here and pile it on our comment section.
Until then, we're signing off...

Technorati Tags: 2008 Presidential Election, McCain, Obama, carpet Del.icio.us Tags: 2008 Presidential Election, McCain, Obama, carpet